The Eastern region is home to some of the greatest science and the most brilliant health and care practitioners in the world.
We want the six million+ people living in our region to benefit from both, creating better health outcomes and more prosperity for everyone.
Our region comprises Cambridgeshire and Peterborough, Norfolk and Waveney, Suffolk and north east Essex, mid and south Essex, Hertfordshire and the eastern border of Bedfordshire.
The East of England boasts the largest technology cluster in Europe, which employs 16% of the total UK life sciences workforce. It has the fastest growing investment in technology, growing 206% over the last 12 years.
Our region boasts six universities and a rich history of innovation and academia, as the birthplace of biologic drugs, the discovery of DNA and 50 Nobel Prize winners in science and medicine.
Cambridge, where our office is located, is a world leading genetic research hub and home to one of only eight Academic Health Science Centres recognised by the Department of Health and Care for outstanding clinical partnership in England. It was chosen due to links between university research, a world class teaching hospital, clinicians and business as well as the capacity to further develop collaboration to improve healthcare for patients.
Our population has diverse health needs, with the over-85 demographic due to double in the next 25 years, and some of the UK's biggest wealth inequality. Around 85% of our population is born here and stays in the region, with a third of them living in rural areas.
By understanding and listening to the needs of our local healthcare system we can work together and turn challenges into opportunities. We work with the six sustainability and transformation partnerships (STPs) and integrated care systems (ICSs), 11 clinical commissioning groups (CCGs) and 17 NHS Trusts in our region to embed proven innovations into complex health systems.
The six integrated care systems in our region are: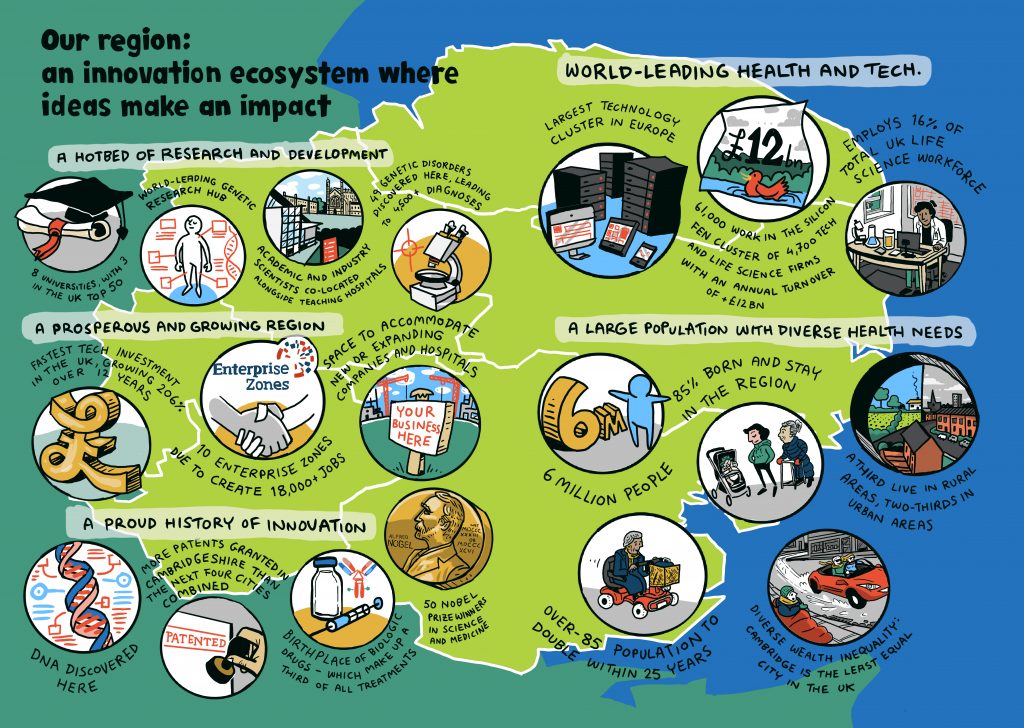 Click here to view this map in a separate tab.