Evidencing your innovation

Evaluation is a necessary step in commissioning, designing and implementing innovations in health and social care. Real-world evaluation helps to understand the value of a new product or way of working in a real-world setting.
Using evidence-based approaches, Health Innovation East can help you measure the impact of an innovation or transformation project or generate insights to support decisions about which innovations and pathway changes to develop. Our evaluation team can also support you to maximise an innovations value to enable adoption at scale across the NHS and the health and care ecosystem.
Our expertise
Health Innovation East's real-world evaluation service provides significant experience and expertise across implementation science and qualitative and mixed-methods research – we have a diversity of clinicians, clinical academics and academics working in our team.
We work collaboratively with partners to understand their needs and help them build evaluation into every step of the innovation adoption pathway, ensuring that we capture the voice of partners, including patients and staff, in everything we do.
Manjul Rathee, Co-founder & CEO of BFB Labs:
"Working with Health Innovation East has been one of the best partnerships we've experienced. As well as their pragmatic approach and understanding of an innovator's journey, they were able to bring together a consortium of stakeholders including clinicians, commissioners and subject experts to help us realise this study. Within weeks, we had made progress that we expected to take months and we are so excited to see the results of the study later this year."
Recent projects also include a rapid evaluation, commissioned by NHS England and conducted with Health Innovation Manchester, to understand  where virtual ward model delivered cost efficiencies compared to traditional care pathways. The report adds to emerging evidence of virtual wards enabled by technology offering positive, effective care that supports people to be at home rather than in hospital. Read the final evaluation report here.
How we can support you
Health Innovation East can support evaluation projects from early stages right through to adoption and spread.

We can play a leading role in your real-world evaluation or provide tailored support and guidance: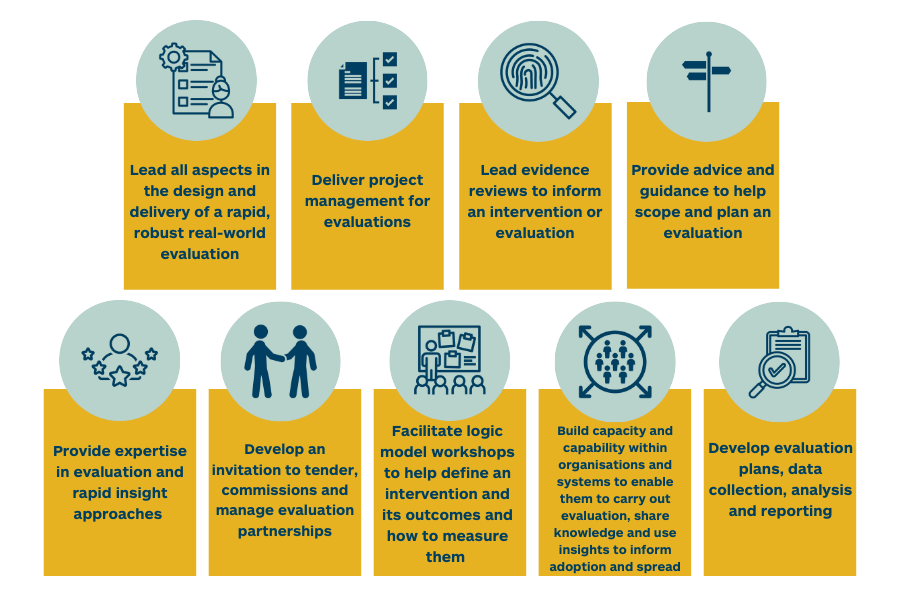 We would love to support your with your evaluation needs.
So that we can understand how best to support you; fill in the form below and we will get back to you quickly. If you would like to have organise a call to discuss your requirements, please email evaluations@healthinnovationeast.co.uk