Bringing together the Cambridge dementia research community
Health Innovation East partnered with Cambridge Wireless and One Nucleus to bring together the Cambridge dementia research community and discuss innovations that may help address how dementia is detected and treated.
The evening featured talks on a variety of innovative approaches spanning diagnostics, drug development, MedTech and digital technologies to apply to the multidisciplinary prevention and care of dementia patients.
Dr Louise Jopling, Commercial Director at Health Innovation East reflected on the evening, saying:
"If we are to make breakthroughs in health outcomes, and particularly dementia, it will require input from the full spectra of the dementia community. Through convening diverse communities from academia, charities, digital, MedTech and therapeutic arenas and innovators from start-ups to medium and large companies, we can give ourselves the best chance of delivering better outcomes through collaboration".
Professor James Rowe from Cambridge University Hospitals NHS Foundation Trust gave a patient research-focused context to open the evening, explaining that there are over 800,000 living with dementia in the UK – a number set to double in the next 20 years – and stressing a need for greater focus on the prevention and early detection of the disease.
Collaboration was the key theme of the night, as Carol Routledge from Alzheimer's Research UK explained how ARUK are expanding their Drug Discovery Institutions (DDIs), which pair world class academics with industry leaders to overcome the challenges of drug discovery development. The current DDIs in Cambridge, Oxford and University College London have proven so successful that the universities are looking at how the model could be applied to psychiatry.
Declan Jones from Johnson & Johnson Innovation spoke passionately about how unmet clinical need calls for an innovative approach whilst praising the appetite for the research and innovation community to collaborate.
Dr Hakim Yadi, Co-Founder and chief executive of Closed Loop Medicine, talked about closing the loop between physician, patient and their medical information, and called for the dementia community to look at how drugs, therapy and social prescribing are all currently used in disconnected ways.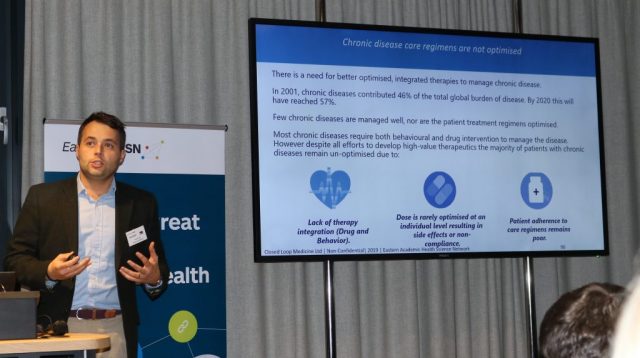 Dr Yadi reflected:
"Digital health? It's just health. We don't talk about digital banking or digital shopping; it's just how it's done in the 21st century"
The event also featured a series of short pitches to showcase selected innovations to help dementia sufferers with issues such as navigation around care homes, earlier detection of other health problems and new ways of developing therapeutics.
Finally, the speakers fielded questions from the audience before bringing the night to a close.