Beacon House Ministries is a daycare centre which offers a variety of services for the homeless in Colchester. I have been part of the Beacon House team for 18 years, working within the healthcare services as an advanced nurse practitioner.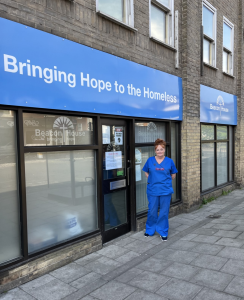 At Beacon House we operate as a drop-in clinic, offering vaccinations, sexual health advice and screening in addition to cancer screening. We can see up to 15 patients each day in our clinic but the centre is visited by around 50 individuals a day for a variety of reasons. Outside of the healthcare services we also provide showers and laundry facilities, run a café offering hot food and drink and give life skills support such as CV writing, cooking and budgeting. It is a busy environment with our multidisciplinary team working together with external agencies and organisations such as Open Road, Hepatitis C Trust and Samaritans.
My job at Beacon House is incredibly impactful because homeless people are particularly affected by health inequalities. Evidence shows that health outcomes for the homeless are worse than those of the general population. Data from the Office for National Statistics presents a staggering 30-year difference between the mean age of death for homeless individuals versus those in the general population (1).
The higher risk of mortality for the homeless is often coupled with multiple long-term health conditions. Substance misuse problems are common and are often combined with mental health problems and other health conditions such as cardiovascular disease (CVD). Despite their greater health needs, our service users face many challenges and barriers to accessing healthcare. For example, where a homeless person might be transient, access to a GP is often challenging. At Beacon House, my team and I focus on plugging this healthcare gap.
Increasing independence and self-belief
We have a holistic approach to our roles and we do all we can for those visiting the clinic to build their confidence and increase their independence and self-belief. One aspect of this is tackling the digital health inequality that many of our service users face.
We already understood the benefits that digital technology offers for our service users when in 2022 conversations about digital health innovations led to Health Innovation East introducing me to Jez Styles, Head of Business Development at SiSU Health.
SiSU Health are at the forefront of digital healthcare, and we quickly discovered that we share a passion for tackling digital health inequalities. A few conversations around this topic and the work that we do at Beacon House led SiSU Health to place one of their health stations inside our clinic. SiSU Health Station™ is an internet-enabled, medical device that allows individuals to undertake a free, self-service health check in less than five minutes. The health station can measure blood pressure, heart rate, body fat, height, BMI, weight, smoking status and even stress levels (PSS-4). The data collected can be emailed to a healthcare professional or to the individual taking the tests.
Breaking down barriers
Accessing healthcare can be an uphill battle for homeless individuals. Lack of stable housing and transportation makes it difficult to reach medical facilities. Limited financial resources further hinders their ability to afford healthcare services and medications. Homeless individuals often face discrimination and stigma, leading to inadequate treatment and reluctance to seek help. Additionally, the lack of proper identification documents and medical records poses significant barriers.
Due to all these challenges, many of our service users have not had basic health measurements like their blood pressure assessed for long periods of time, increasing their chances of experiencing potentially life-changing or even life-threatening events. I regularly come across individuals that are completely unaware that they have high blood pressure, which puts them at a greater risk of suffering a stroke and heart attack.
Fast forward six months and the health station has become an integral part of our clinic. To make sure it is available to anyone visiting Beacon House, we placed it within the open access area of our foyer – with a volunteer on hand to offer support if needed.
There is no need to book in to use it, it is available for any of our service users regardless of whether they have used it in the past. We encourage regular use of the health station so individuals can see how their health is changing and help them to feel empowered to take responsibility for it.
The introduction of the SiSU Health Station™ into our centre has been a game changer for us.
Before we had the health station at Beacon House, each patient would be seen for about 15-20 minutes by my colleague who would take all their vital health measurements. All patients would then come to me and I would delve deeper to assess and evaluate what type of help they might require.
Now, the health station frees up my colleague's time as it takes all the vital measurements for us. It also offers some basic triaging as it automatically offers advice to those individuals that are not high risk but can improve their health through simple lifestyle changes. I will then see those in need of further support.
What this really means for us at Beacon House is that my colleague has been freed up to work on other priority areas such as vaccinations and I have the opportunity to focus on those that actually require my support. The SiSU Health Station™ really is like an additional member of staff.
The biggest impact: giving ownership for health back to the patient
My focus has always been on how poor health and lack of access affects our homeless community and our service users. Without a doubt, using the health station has been an important step for many of our homeless patients. Learning how to use the health station and emails to share the results of the assessment has empowered those service users that are digitally challenged and given them greater confidence in their own abilities. Many of the individuals that we care for have no or very little self-esteem so any opportunity to build on this is invaluable.
Even for those that are digitally confident, the health station places the responsibility of their health back into their hands. It provides them with easy to access information that educates them on how to improve their health and avoid long-term health conditions.
For our team at Beacon House, the SiSU Health™ station is only the beginning of our journey using digital technologies to help our community. It has enhanced our ability as nurses to educate patients to look after their health. It has given us another tool to facilitate their empowerment, and digital health technologies will continue to play an integral role in addressing health inequalities in our community.
You might also like…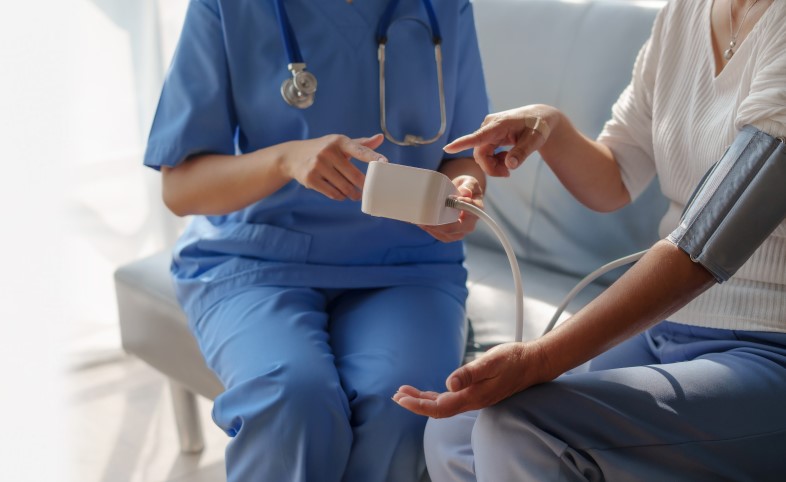 How much does the general public know about their blood pressure?
Katherine Cummergen, Senior Advisor, shares what we learned from a survey of over 700 people about blood pressure optimisation.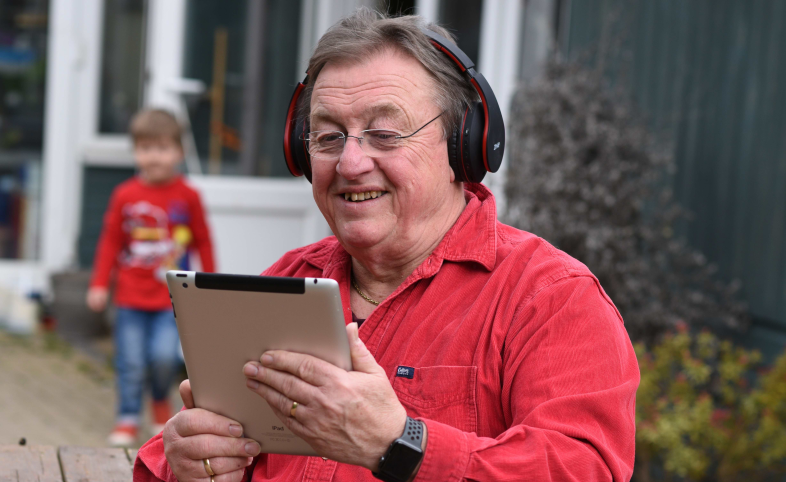 Remote rehabilitation: what about health inequalities?
Amy Miller, Senior Advisor at Health Innovation East, shares the findings of a new report exploring the impact of digital rehabilitation services on health inequalities