Insight
AI is expected to improve prevention, early detection, diagnosis, decision making, treatment, end of life care, research and training. For these reasons, the UK Government has recently pledged £250 million for a National Artificial Intelligence (AI) Lab to improve diagnostics and screening in the NHS.
"Just as a microscope proved an invaluable tool in medicine and biology when it was developed and people learned how to use it, so artificial intelligence (AI) will prove an invaluable tool as it is developed and people learn how to use it." – Professor Mihaela van der Schaar, Topol Review 2019.
With the East of England boasting some of the best science and technology expertise in the world and being a world leading center for artificial intelligence (AI), Health Innovation East wanted to explore how we could create connections to help early-stage and research startups from across the UK and EU to rapidly develop their AI and machine learning ideas.
To ensure the programme's focus was aligned to the needs of health services, innovations had to address challenges set in collaboration with our local stakeholders, providers and patient groups.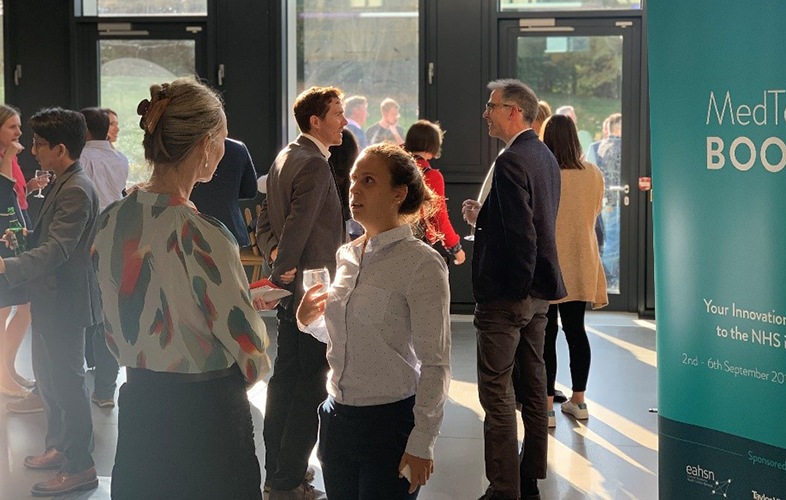 Intervention
MedTechBOOST is a new initiative, launched by Health Innovation East, to tackle healthcare's biggest challenges in partnership. The competition brings together the brightest specialists in the health and tech sector, academia and medical practitioners to collaborate and harness groundbreaking AI ideas.
In our first year we worked in collaboration with Cambridgeshire and Peterborough Foundation Trust and VOICE to set two healthcare challenges for innovators, based on major areas of focus in the NHS Long-Term Plan. The first explored how AI can be applied to mental health to improve patients' safety and prevent suicidal behaviour or detect impending violent behaviours. The second challenge related to healthy ageing and challenged participants to find ways to use AI to facilitate targeted, personalised care in older people with multiple co-morbidities and to specifically to help detect Alzheimer's disease.
Over an intense five-day sprint programme, successful applicants had the opportunity to work in teams alongside healthcare industry professionals and experts to turn their early stage idea into a clear business proposition and prototype, culminating in a pitch to investors and partners at the end of the week. The programme covered customer interviews, development of value proposition, business modelling, prototype design and development and roadmap planning.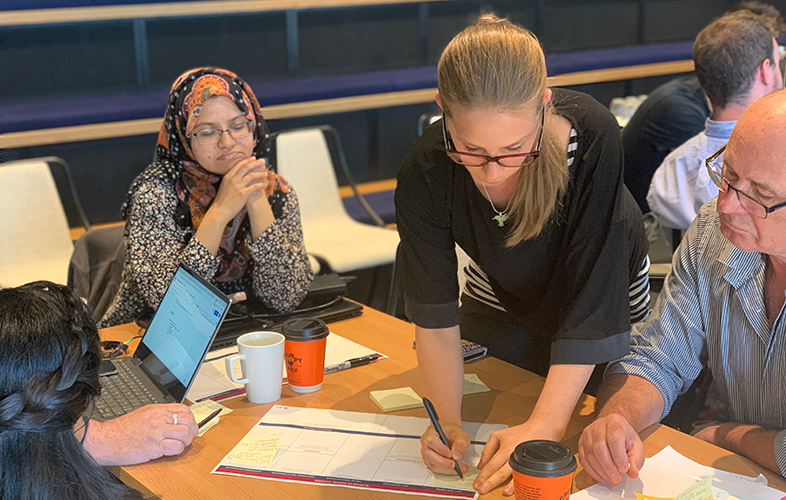 Impact
The pilot saw six teams make it through the competitive application process and finish the programme. Having developed their ideas over the course of the week, we have continued to support them to maintain momentum towards delivering patient impact and continue to work with contacts made at the event:
Equilibrium – uses wearable technology to predict mood changes in bipolar patients. This newly formed team at the event have gone on to develop a proposal for Cambridgeshire and Peterborough Foundation Trust as one of the Judging panel took an interest in the project. Additionally, they are being supported by Health Innovation East to help secure funding for a pilot study, including applications for the new £140m AI Health and Care Award run by the Accelerated Access Collaborative, NHSX and NIHR.
Cambridge MemTech – uses machine learning to improve diagnosis and stratification of Alzheimer's Since the event the team remain in contact with Cambridgeshire and Peterborough Foundation Trust and have also been supported by Health Innovation East in applying for an AI Health and Care Award.
CAM AI – an AI-based psychological support platform to reduce adolescent self-harm.An established psychotherapist came up with the idea but needed to be paired with new team members at the event with the right technical skills to develop his idea. They are working with Google and Cambridge University to support a private study.
Cerebrum Matter's COSMA Gaming Software – is aimed at the identification and intervention of early dementia symptoms. Kartheka Bojan of Cerebrum Matters was invited to speak at an Health Innovation East, One Nucleus and Cambridge Wireless event entitled Bridging communities to improve dementia outcomes and Health Innovation East has supported Kartheka to apply for National Institute for Health Research (NIHR) product development funding.
Reinventing Nutrition – poor gut care increases the possibility of dementia, so Reinventing Nutrition analyse a person's microbiome and prescribes an appropriate nutrition plan. They are currently developing a proposal to conduct a prospective, observational pilot study with the help of Health Innovation East's expertise on study design, sample analyses, technical methods and generating meaningful research outcomes.
If you are interested in hearing about future MedTechBOOST events you can register your interest at www.medtechboost.com.
Who was involved?
Partner organisations included Health Innovation East, Cambridge Judge Business School Entrepreneurship Centre, The Bradfield Centre, Studio Zao, VOICE, AstraZeneca, Johnson and Johnson Innovation, ARM and Guys and St Thomas and Cambridgeshire and Peterborough NHS Foundation Trusts.