Leading for care integration – the big collaboration
Health Innovation East partnered with the East of England regional NHS Leadership Academy and our six integrated care systems (ICSs) to support the embedding of collaborative, compassionate and inclusive leadership within developing ICSs.
Leading for care integration – the big collaboration brought together more than 700 health and care staff from across the region over three events to explore collective innovation, enabling high performing integrated teams with systems as well as the leadership skills and behaviours health and care leaders will need for the successful integration of public sector, social care and third sector.
Delegates were able to pick from a packed agenda of 10 workshops on topics including embracing diversity, career development, compassionate leadership, public and patient involvement, innovative leadership, the role of AI to restore care and 10 'glimpses of brilliance' sessions where each of the ICS in the region presented examples of best practice to enable the sharing of their successes and practical learnings.
The plenary sessions also gave delegates the opportunity to hear from national thought leaders about integrated care:
Dr Bola Owolabi, Director, Health Inequalities at NHS England and NHS Improvement talked about the key role ICSs need to play in addressing health inequalities.
Sir Muir Gray outlined the challenges of what he calls the "third revolution in healthcare", with services being built around patient groups, multimorbidities and value based care.
Nicky Moffat CBE, drew upon her long career in the military and her vast leadership experience to talk about leading through uncertain times and how we need to identify the things that matter, collaborate beyond boundaries and all can be agents of change.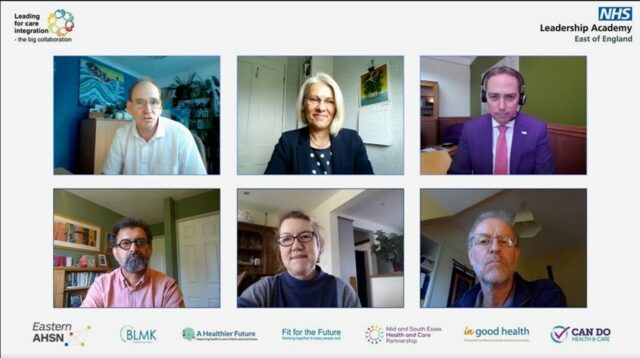 Piers Ricketts, Chief Executive of Health Innovation East, said:
"Integrated care systems will require health and care leaders to increase the scale of the collaborations and partnerships in which they are already working, greatly increasing the role played by innovation and technology."
Jacky Dixon, Systems Leadership Development Senior Manager for Leadership and Lifelong Learning (East of England) at NHS England and NHS Improvement, said:
"Collaboration and leadership aren't just for senior management. We need to involve health and care professionals at all levels and give them the right skills, culture and tools to work with the community to deliver the care they need."