Our latest Impact Review is now live
Each year, Health Innovation East publishes its impact review to highlight how we have worked with the health and care innovation community in the East of England and beyond. Through the voices of our partners and our expert staff, we uncover the story behind the impact, shining a light on our role in helping to turn great ideas into positive health impact.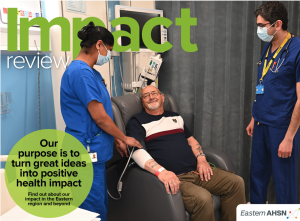 A handful of topics that this year's review includes:
How we are helping to reduce health inequalities including tackling cardiovascular disease, identifying cancer earlier and how we can help improve mental health outcomes for children and young people.
How we are enabling partners across newly formed integrated care systems to build the infrastructure and culture needed to maximise the benefits of innovation.
How we are helping to harness complex health data to enable the development of better, more personalised treatments.
How we are supporting the embedding of system-wide patient safety improvement.
The 2022/23 impact review also evidences how we have supported innovators to navigate the healthcare system, access funding and grow their businesses.
You can read our impact review here.
What's in store for Health Innovation East in 2023/24 and beyond?
In 2023 we celebrate 75 years since the NHS was established and 10 years since the Academic Health Science Networks (AHSNs) were created by NHS England to transform the way the NHS identifies, adopts and spreads innovation.
The 10-year milestone for the AHSNs was recognised in May with the government and NHS England confirming their intention to relicense England's 15  AHSNs, including Health Innovation East, under the revised badge of 'Health Innovation Networks' (HINs).
As part of a £650 million investment package to boost the UK's life sciences sector, the AHSNs will be commissioned for five years as Health Innovation Networks – reflecting the key role they play in supporting development and spread of innovation across health services.
Piers Ricketts, chief executive of Health Innovation East said:
"Health Innovation East and the national the Health Innovation Network have some tremendous collective achievements to be proud of from the last decade. We have witnessed major advances in the health and care sector and played a key role as enablers of change and development. Working together as a national network, we have supported the introduction of new ways of managing cardiovascular disease, enabled children and young people to benefit from better access to therapies for eating disorders and early diagnosis of ADHD and leveraged well over £1 billion of investment into the UK's health and life sciences industries. We are delighted that the impact of our work has been recognised by our commissioners through the issuing of a further licence.

Over the next five years, Health Innovation East will continue to support the diverse healthcare requirements of the Eastern region, aligning to NHS priorities to meet the areas of greatest health need and to deliver improved services through the adoption and spread of proven innovations."
The new licence will come into effect from 1 October 2023. More information about the roll out of the new licence, our priority programmes and our collaboration with NHS England and the Office for Life Sciences, will follow during the summer.
Under a new name, we will continue to build our impact with a focus on fostering a culture of innovation and tackling health inequalities to address the needs of our region.