Patients enrolled on the Active+me cardiac rehabilitation pilot were able to complete the programme without face-to-face contact
When the coronavirus pandemic forced hospitals to deliver services differently, a cardiac rehabilitation pilot being run at Addenbrooke's Hospital quickly adapted to help patients keep up their exercise and manage their recovery thanks to funding from Innovate UK and support from Health Innovation East.
Active+me is a solution developed by Aseptika which empowers patients to take charge of their own recovery, providing them with standard cardiac rehabilitation care which includes guidance on safe exercise and education on risk factors and lifestyle changes, reinforced by educational resources on the Active+me platform. In addition, patients are provided with medical monitors to take home and record progress such as activity levels, blood pressure, weight and oxygen saturation. The data from which are uploaded to an app and shared securely with the hospital's cardiac rehabilitation team.
A pilot of the platform at the hospital, part of Cambridgeshire University Hospitals NHS Foundation Trust, started in September 2019 with support from Health Innovation East. However, the COVID-19 pandemic caused all face-to-face cardiac rehabilitation appointments to be paused, meaning patients could no longer attend exercise classes as part of the programme.
To ensure the same high-quality level of care could be delivered to Cambridgeshire patients from beginning to end without any face-to-face contact, the hospital worked with Aseptika (providers of the Active+me platform) and Health Innovation East, with support from an Innovate UK grant, to rapidly adapt the Active+me programme through online classes.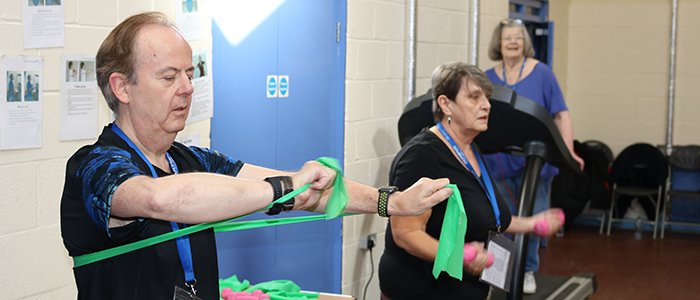 This pathway was evaluated in a research paper published by BMC Health Services Research, part of Springer Nature.
The paper found that participation in standard cardiac rehabilitation, with Active+me, is associated with increased patient skill, knowledge, and confidence to manage their condition. Active+me may be an appropriate platform to support cardiac rehabilitation delivery when patients cannot be seen face-to-face.
The monitors and equipment combined with the Active+me platform meant that while classes were delivered over video call, patients had added reassurance of the cardiac rehabilitation team remotely monitoring progress, identifying any concerns and supporting early intervention where necessary.
Despite the challenge of implementing a pilot during the pandemic, the commitment and focus of all partners to adapt and deliver the pilot has led to the rollout of a new service called Active+me REMOTE Cardiac Recovery, delivered remotely in partnership with cardiac rehabilitation centres. The programme was also accepted onto the Advanced Wellbeing Research Centre's Wellbeing Accelerator at Sheffield Hallam University, through which the project gained access to the Sport and Physical Activity Research Group who are undertaking an independent evaluation.
One patient using the Active+me platform is Cambridgeshire-based Steve King. Steve enrolled onto the pilot in January 2020 after having a triple heart bypass in September 2019. He reflected:
"I had a heart attack in December 2014, which should have been a big wake up call for me but my heart attack was minor and looking back on it now I didn't recognise I was particularly ill. So, I completed my cardiac rehabilitation and went back to work, without keeping up the exercise programme or making the changes I probably should have made to my diet and lifestyle. Subsequently I found myself needing a triple heart bypass five years later."

"After my surgery I started my cardiac rehabilitation, but what was different this time was I enrolled onto the Active+me pilot which piqued my interest because of my research background. I also found out that I was borderline type 2 diabetic, which was further motivation to make a change to my lifestyle. Now I measure my weight, blood pressure and blood oxygen levels – all of which I didn't pay any attention to before – as part of my daily routine. But what interests me most is the trends in my data over time, which I can monitor through the app."
Steve found the changes brought about in response to the coronavirus pandemic were actually beneficial to his rehabilitation:
"After the experience with my blood pressure rising I decided I would commit to the group fitness classes in the next phase of my rehabilitation, but there was a waiting list for spaces. However, when COVID-19 caused all the fitness classes to be moved onto Zoom the classes could accommodate more people, so I was able to join straightaway. That was a real benefit as I wanted to join the sessions while I was still motivated."

"One of the things I've learnt through my cardiac rehabilitation this time is I'm not great at motivating myself. So the online fitness classes have been great at holding me accountable and have given me the structure I needed."
Steve concludes:
"I am really grateful I took part in the pilot, I feel much more self-aware, confident and in control of what I do now."
This project was highly commended in the Self Care Coronavirus Awards from the Self Care Forum.
You can learn more about Aseptika and their Active+me REMOTE Cardiac Recovery programme by visiting their website. You can learn more about Innovate UK funding here.