ManDetSIP focuses on managing deterioration at a system-wide level across both health and social care through the Managing Deterioration programme and the Eastern Patient Safety Collaborative Care Home Community Network.
What are the aims of the Managing Deterioration Safety Improvement Programme?
By March 2024, the programme aims to support further adoption of deterioration management tools (including NEWS2, Soft Signs and SBAR), in at least 85% of care homes by the end of March 2023. In 2022/23 we are looking at sustainability in systems, collating and sharing learning through our networks.
Supporting improvement in deterioration management in non-acute settings
The National Early Warning Score version 2 (NEWS2) is a structured observation tool to identify deterioration in adults. The ManDetSIP initially supported its national adoption by ambulance and hospital trusts to reduce the number of patients who deteriorate while in hospital. It is now working in non-hospital settings, including care homes, to assess use of deterioration management tools and support organisational training, adoption and consistent application – using tools like NEWS2, soft signs, SBAR etc. which help staff to identify possible deterioration through both 'soft signs' and physiological observations and communicate for escalation and response.
The Eastern Patient Safety Collaborative (PSC) is also supporting the role out of digital innovations that incorporate NEWS2, soft signs and SBAR. An example is the Whzan blue box.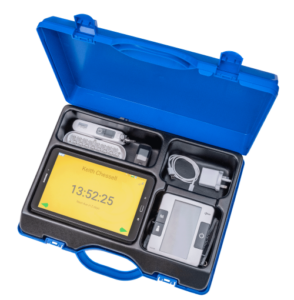 Eastern PSC works through its Patient Safety Networks, developing resources and tools to support improvement in their local health and care systems in collaboration with providers, CCGs, ICSs and local systems. As a result, more community services, mental health providers, and primary care settings are adopting deterioration management tools.
Patient Safety Collaboratives have also been developing approaches to increase adoption of Personalised Care and Support Plans (PCSPs) across non-hospital settings – aligning with the work of the national palliative end of life care and personalised care and support plan teams, to support assessment of the quality and reliability of personalised care planning in relation to deterioration.
Further information
For more information and to find out how we can support you, please email improvement@healthinnovationeast.co.uk
The Patient Safety Improvement Programmes are bring delivered in our region by the Eastern Patient Safety Collaborative (PSC).