Insight
Elderly people and those living with disability can struggle with using the toilet and cleaning themselves afterwards, especially if they don't have access to one with a raised seat. This can impact their sense of dignity and self-esteem and is often a trigger for elderly people to go into a care home.
Bidets can enable elderly to manage their own hygiene. However, they can be expensive, too low down and installation is often impractical.
Intervention
An innovator called Andy Speechley came to an Health Innovation East event and during his one-to-one surgery session shared his idea to develop a raised toilet seat with a washing facility which fits over an existing toilet to enable the user to manage their own hygiene. The Washseat safely delivers a gentle but effective warm water stream to wash the user whilst still sitting on a raised toilet. What he needed was support from Health Innovation East in how to develop a prototype, access funding and set up a pilot to test out his product in a care setting.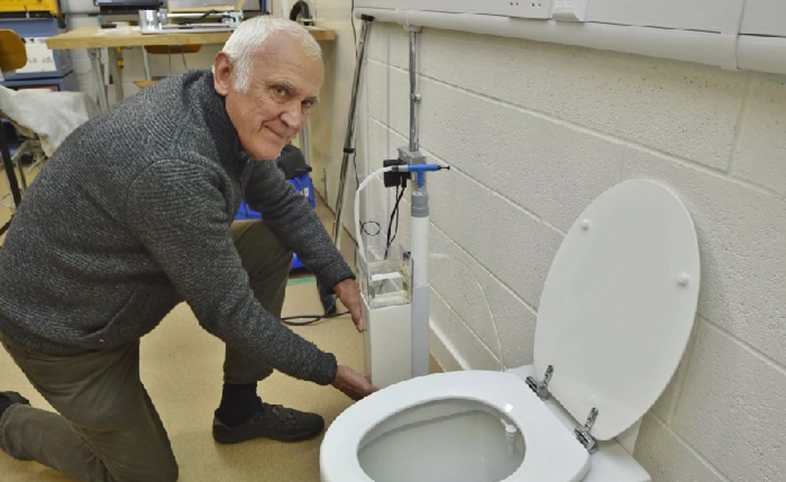 Health Innovation East arranged a consultation with Clinical Engineering Innovation (CEI) at Addenbrooke's Hospital later that day to begin refining his product. The following day Andy was invited to a pitching event with our partners at Provide CiC, where the panel were impressed by his innovation and immediately saw the difference the Washseat could make to care services. Following an introduction he has also since been in contact with the local Director of Social Care at NHS England to discuss his innovation.
Impact
Through our partners at Health Enterprise East, Andy received expert advice on intellectual property and patenting to ensure he could market his product and Health Innovation East funded a continued refinement of the prototype with CEI. The refined Washseat can be made to sell for only £250 or can be rented for around £50 per month. Health Innovation East is working with the Washseat to explore the commercialisation of the innovation to support other patient groups including patients with haemorrhoids, bowel problems or those recovering from surgery. Other benefits of the innovation have been identified such as use with pregnant women and new mums in addition to a potential environmental impact of reducing the use of toilet paper and wet wipes.
Health Innovation East supported Andy in presenting his new prototype at The Occupational Therapy Show at the National Exhibition Centre. Washseat was runner up at the event's innovation awards and a leading OT consultant, Kate Sheehan from the OT Service said it will "revolutionise personal hygiene care for the elderly".
We have entered into a revenue share with the Washseat and are in the process of facilitating a clinical trial in over 50 care homes in the region to evidence how the product impacts patients with a view to brokering sales to NHS providers.
The Washseat was also one of a handful of innovations which were highlighted by Health Innovation East on a relationship building and innovation sharing trip to the Shanghai Yangpu Technology Business Incubator Centre in China, which we hope will led to further international trade opportunity.