How can the NHS reduce its carbon footprint?
In October 2020 the NHS became the first in the world to set the target of delivering a net zero national health system and we are committed to helping them in this goal.
The climate emergency is also a health emergency and unbated it will disrupt care and affect patients at every stage of their lives with poor environmental health contributing to numerous health conditions.
We believe the targets are as ambitious as possible, while remaining realistic and to deliver them we need both immediate action and a longer-term commitment to continuous monitoring, evaluation and innovation.
The targets set are:
For the emissions the NHS control directly (the NHS carbon footprint) to be net zero by 2040, with an ambition to reach an 80% reduction by 2028 to 2032 (1)

For the emissions the NHS influence (the NHS carbon footprint plus) to be net zero by 2045, with an ambition to reach an 80% reduction by 2036 to 2039 (1)
You can read Delivering a 'Net Zero' National Health Service from Greener NHS here.
How can innovation make the NHS more sustainable?
The NHS is in a strong position with expertise and progress in sustainable healthcare and staff support for the commitment. However, identifying a route to net zero emissions for a complex system as large as the NHS is particularly challenging and it will be key that we learn from and apply lessons and successes from other industries.
Innovation will play a key part and we are working with regional and national sustainability networks to help identify innovations that will make an impact. We are particularly interested in hearing from companies with innovations that align to the strategic priorities the NHS has identified as illustrated below: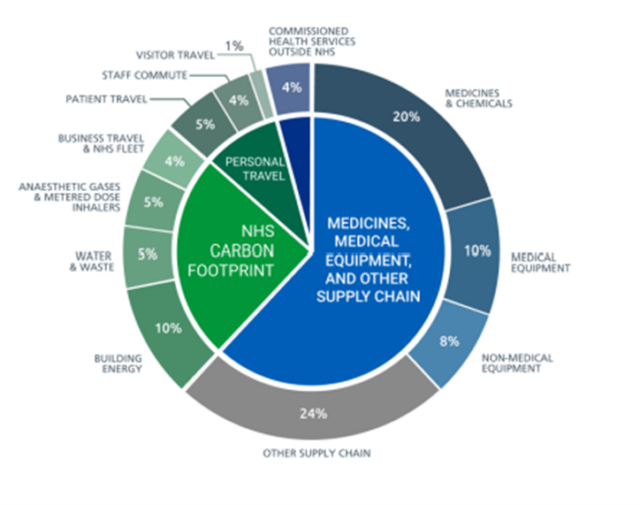 Submit your climate tech innovation
If you have an innovation that could help the NHS reach its sustainability target fill in the form below. This will help us understand the benefits of your innovation, your progress to date and where we could help you.
Health Innovation Network resources
Our unique role working with industry, academia and the health and care system in regional and national settings puts us in the perfect position to support the drive for sustainability at every level.
The Health Innovation Network acts as a pillar in the development and uptake of technologies and best practices designed to reduce emissions in healthcare. These resources will help you to understand what you need to consider when working towards net zero.
Health Innovation Network net zero innovator guide
Health Innovation Kent Surrey Sussex and Health Innovation Oxford and Thames Valley have produced a guide to help innovators working with the NHS towards its net zero ambitions.